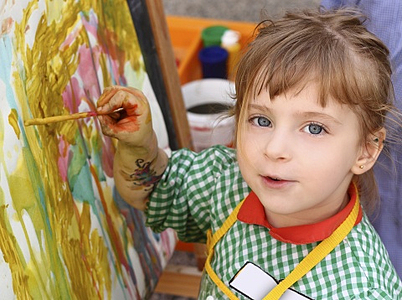 We're all looking for those top 10 best ways to increase website conversions and rightfully so. Today I'm going to share with you 5 visual design elements of a website that can really help increase website conversion.
First, let's talk about why visual design elements are so important. First off, they are the first thing people see when they come to your website. Did you know the human eye is conditioned to pick up on elements such as the color red and photos with faces in them? Just knowing these two details can increase your time on site metric and help increase website conversions if implemented in the proper way.
Is Your Website Ugly?
You might have seen it yourself. You get a business card and you navigate to the business website to find yourself lost in an array of colors with a bunch of mumble jumble. Not impressive!
On the other hand, I'm sure you've been to those websites that are clean and clear with a very direct message and you just feel like the company is put together and knows what they're doing.
The human brain likes order and consistency so if your website can't pass the 5 second test. Then redesign it.
Defining the 5 Second Rule: Open your webpage for someone and have them take a look at your site for 5 seconds and then close the computer. Your participant should be able to state the goal of your site and the problem that it is solving.
Design Elements [Infographic]
Below is a simple but powerful infographic. It explains the top 5 most important visual elements that go into creating a website. Take a look.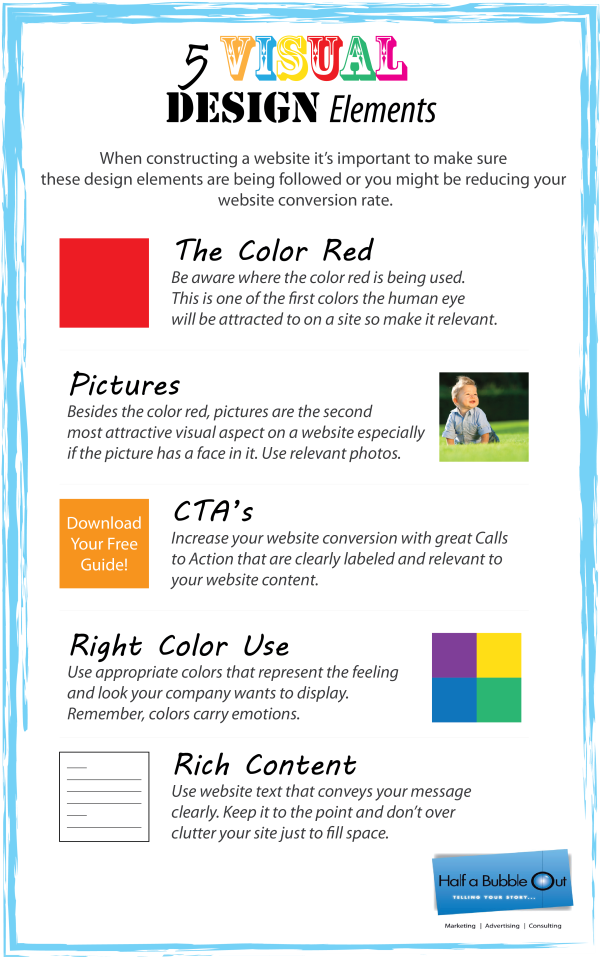 Follow These Next Steps
Take this knowledge and apply it as a part of your internet marketing strategy! If you're the CEO of the company, sit down with your web developer and see what you can do to asses these 5 design elements on your website. You might need to delete some material or you may find some interesting ways to use these powerful design elements to increase website conversions on your site.
Looking To Decrease Website Conversions?
It's time to go old school folks. In the following video you'll learn exactly what to do to make your website look like it went back to the 80's. Follow these 5 steps to see a drastic decrease in your website conversions.
Now if your website has some of these old school elements to it, like outdated fonts and neon colors get rid of them! You're pushing visitors away and creating a bad reputation for yourself. But don't freak out. Just simply sit down with your website designer, print out the infographic above and brainstorm some different ways you can make changes.
Be On Top of Your Game!
Trends are always changing so it's important you change as well. The internet marketing business is all about adapting to change and what people find appealing. It's worth your time to be up to date with the cool kids on the block.
A few good business websites to follow that have up to date website design fonts and colors are:
Have A Blast!
Never forget to have fun! Take this time to get to know your website developer and let them know you really care about the work they do. Honor their commitment to your company and the hard work they do. Gratefulness is always a great way to start. It provides a secure place to fail while encouraging people to perform to their best ability.
Well there it is…5 design elements that will increase your website conversion. Leave a message below if you found this helpful or need some more advice on how to implement these change to your site.
Happy Designing!
Related Articles:
What Makes a Good Website for a Local Business?