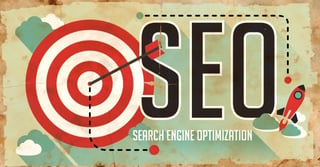 Do you have a small business that is just getting started and needs to find a good source of customers? Or maybe you work for an established company, and are trying to increase conversions on your website and reduce the cost per lead. Either way, you have probably been told to buy SEO services at some point along the way. Today's post is to help inform you of what exactly SEO services are and are not, so that you can be more informed as you consider paying for this form of marketing.
What is SEO?
SEO is short for Search Engine Optimization, which is basically a term for optimizing your site to look as good as possible to search engines (Google, Bing, etc) so that your site will rank as high as possible when users type in relevant queries.
Keep in mind, we're not talking about the paid ads at the top, right hand side or bottom of the search results. We're talking about the 10 listings per page of unpaid "organic" results. These are the results that are determined by Google's search algorithm and designed to give you the most relevant sites matching your query. There is no cost when someone clicks on an organic search result, unlike the paid ads section.
As you can imagine (and may already be aware), this "free" section is very competitive, and can be hard to get in to a top spot. Why is it so competitive? Two reasons: It's free, and it can drive TONS of traffic.
For example, let's say you're a discount travel site that sells airplane tickets. According to Google's Keyword Planner in the U.S. alone there are 246,000 monthly searches for the term "plane tickets". It's not hard to see why a travel site would covet the #1 spot (and even be happy with #2 or #3). When I performed this search, TripAdvisor, Orbitz and Expedia were the top 3 results. These sites no doubt get a lot of traffic and hence a lot of revenue for showing up organically.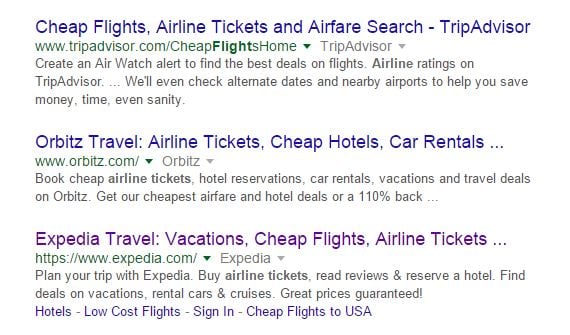 It should also be noted that smaller businesses and companies trying to gain traction online will do better going for local and more detailed searches that are less competitive and easier to rank in a higher position for.
What are SEO Services?
When you look at buying seo services, you are basically talking about paying someone to set your site up to be more likely to get well-targeted traffic from search engines. It's not as simple as just paying someone and showing up, however. Ranking on search engines can take time and a consistent effort and touches many aspects of your marketing including:
Website content and copy on your pages - what is this site all about?
Social Media – is your company being shared and talked about on social media?
Links – do reputable sites link to your domain? This is one of the ways Google and other engines determine whether or not your site is considered credible and relevant.
Technical SEO aspects – this includes keyword strategy in title tags, image alt text, text in your headers, etc.
Should You Buy SEO Services?
So moving on to whether or not you should buy seo services, it really depends on your business, revenue and goals. If your company is small and just starting out, it may make sense to do a little DIY SEO at this stage. There are some excellent resources out there, and I recommend Moz.com (they have informative blog articles and even some free tools) and SearchEngineLand.com to get started. Also, one of the best ways to learn is to simply do a Google search and read about your topic on a few of the top results. If you are going this route, educate yourself as much as possible and you can virtually always find an answer to any question you may have.
As your company grows you will definitely want professional marketing help, whether you hire it in house and develop a marketing team or hire it out to an agency. Either way, a good place to start is to figure out your business needs and how valuable online traffic is to your business. From there, you can consider how much you can afford. Keep in mind that SEO touches all of the areas we mentioned above and more, so it's not as simple as buying an à la carte SEO package and magically showing up.
Here at Half a Bubble out, we practice and recommend a more holistic approach that includes multiple aspects of marketing that help our clients rank on search engines.
Now that you have an overview of what SEO is, and some pointers on whether or not you should buy seo services, feel free to contact us if you are looking for SEO marketing help for your business.
For more information on our holistic inbound marketing philosophy, download the free eBook below:
Since 2002, Half a Bubble Out has been dedicated to providing marketing, advertising and small business consulting that meet the needs of our clients. We specialize in powerfully telling stories through Inbound Marketing to grow your business filled with more passion and provision. Based in Chico California, we serve clients throughout Northern California and across the country to New York.