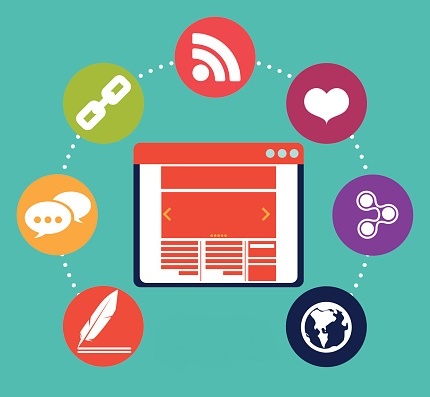 Let's start at the beginning. You started a small business. You marketed your small business by developing assets and using traditional tactics such as TV commercials, radio ads, print ads, sponsorships, even a billboard here and there. Then you built a website as the logical next step because that's what everyone was doing.
It's a fairly decent website. It's bringing you some business. You know this because there's a coupon that people bring in that can only be retrieved from the website, and a contact form that is periodically filled out. Don't sell yourself short. Your website could be working for you 24/7. Do you know how to increase website traffic? By blogging.
Before you object with "I hate to write" or "I don't have time" or "I don't know what to write about" (these are the 3 most common excuses after all) know that there are some quick and easy ways to increase your website traffic by blogging. And if you still hate the idea, well, you can hire an inbound marketing consultant to do it for you!
1. Understand the purpose of blogging
It's important to understand the why behind blogging. Every single day there are people searching online for the products or services you have to offer. By surveying your current customers, as well as doing some basic keyword research on sites like Google analytics, you can have a generally good idea of what topics to write about in order to reach these people.
Your primary goal is to write for people, but you are also writing for the search engines. Google and other search engines use certain factors to rank your website so that people who are searching for what you offer will have relevant information available to them in their search results.
So, blogging is a way to let both people and Google know that your website exists and has relevant information. If they know you exist and your content looks appealing, you'll increase your website traffic because people will want to learn more.
Now that you know why you're blogging, it's time to discuss a few different ways to learn how to increase website traffic by blogging.
2. Blog consistently
Anything worth doing, is worth doing well. If you want to get more traffic to your website by blogging then you need to commit to writing blogs, delegate someone to write blogs, or hire someone to write blogs, and they need to write them consistently. Whether you commit to once a week or 5 times a week, be consistent. You'll show people that you're active in your industry and you'll show the search engines that you are continually publishing fresh content.
3. Blog a lot
When you're just starting out, less is not necessarily more, but quality over quantity is important. Sound somewhat paradoxical? How often you blog and the length of your blogs are correlated to getting more website traffic. That being said, it does depend on your industry, budget, etc. A good starting goal is to blog 3 times a week and each blog should be 600-800 words.
4. Guest Blog
Ask other leaders in your industry to consider writing a guest blog for you about a related topic. This will help you on two fronts: 1.) It will save you time because they're writing it, not you; and 2.) They will most likely want to share the guest post they wrote with their colleagues, bringing you more traffic to your website.
5. Share posts on social media
Another great way to get people to come to your website is to share your blog posts on social media. There is software out there you can use to help automate this, but simply copying and pasting the link with a short, catchy statement about the content will do. Of course, your business has to have a presence on social media, but this is a great way to reach a vast audience to potentially increase website traffic.
6. Aggregate content
Why reinvent the wheel? There are a whole bunch of experts out there sharing great content. You can utilize this in a single blog post by pulling together pieces of advice each of these experts share (don't forget to credit them!). Or, if you have a relationship with experts in your industry, reach out to them with a single question and pull together all of their answers. Again, they will most likely share your blog with their followers since they are quoted, which brings more people to your website.
7. Repurpose content
If you already have some great stuff you've written – such as a speech, content for a seminar you taught, an article you wrote for a print publication, etc. – you can repurpose that content into a SlideShare presentation, podcast, video, or infographic. Stick it in a blog with an opening and closing paragraph and voila! You've got another blog post.
Here are the facts: According to Entrepreneur, 77 percent of Internet users read blogs, 52 percent of consumers make purchasing decisions after reading a blog's advice, and 57 percent of marketers have acquired new customers via their blogs. Bottom line: blogging is important to reach your potential customers online.
If you're wanting to learn how to increase website traffic by blogging, these tactics will help get you started – but it doesn't stop there. The people visiting your blog are all potential customers. Once they visit your website you need a way to make them want to stay. This is where a holistic inbound marketing strategy can help.
If you'd like to learn more about blogging for your business and implementing an inbound marketing strategy, contact an inbound marketing consultant at Half a Bubble Out.
Since 2002, Half a Bubble Out has been dedicated to providing marketing, advertising and small business consulting that meet the needs of our clients. We specialize in powerfully telling stories through Inbound Marketing to grow your business filled with more passion and provision. Based in Chico California, we serve clients throughout Northern California and across the country to New York.