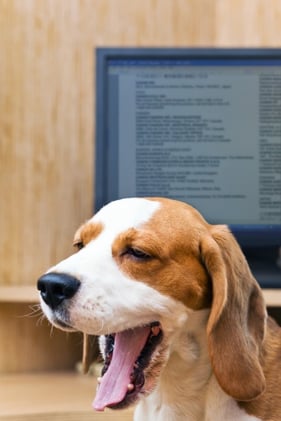 You might not care at all about the software used to provide inbound marketing services. You might care a lot because the budget you have to work with requires you to use the software yourself with an agency's guidance. Either way, if you're considering inbound marketing services for your business you need something that's user friendly, can meet you wherever you are, and help your small business on the progression to get more customers.
We consider the inbound marketing software we use important enough to write an actual blog article about. At Half a Bubble Out we exclusively use HubSpot inbound marketing software and have adopted the methodology.
We practice what we preach – we are a HubSpot partner. We use the software for our own marketing, and if a small business wants to hire us to provide inbound marketing services, it's a packaged deal. We offer YOU – our current or potential clients – the HubSpot platform to market, sell and deliver the remarkable results you expect. Here's why:
1. Attracting Prospects
Old school or traditional marketing – such as radio, TV, cold calling, or direct mail – interrupt people's lives and is impersonal. It just doesn't work as well anymore. Inbound marketing attracts people by giving them what they want, i.e. what they're searching for online, using integrated tools to guide them through their own buyer's journey.
2. Integrated Tools
HubSpot software includes all the tools you need to do inbound marketing with just one platform:
Websites
Email marketing
SEO (Search Engine Optimization)
Marketing automation
Landing pages
Analytics
Social media
Blogging
Most busy small business owners hire a marketing agency like us to take care of their inbound marketing services, but if you want to do some parts on your own or just take a peek around the software, that's easy to do too.
3. User Friendly
The HubSpot platform is very easy to use. Whether you just want to check on the progress of a lead, run a quick report, or post a blog, it won't take you long to learn how. If you ever get stuck, you have access to training videos, blog articles, and a very helpful customer support line – we know firsthand the customer support peeps have our back!
4. It works
Generating a new business strategy is hard, and quantifying ROI is even harder. Here's how it's done, inbound style:
Attract – Create blog posts, eBooks, videos, and other content that answers questions your prospects are asking. Optimize it for search engines and share it on social media.
Convert – Turn traffic into leads with powerful offers. Use landing pages to promote valuable material. Engage serious prospects with clear calls to action.
Delight – Help your leads become delighted customers. Collect the information they share with you so you can help them on the issues that matter most to them.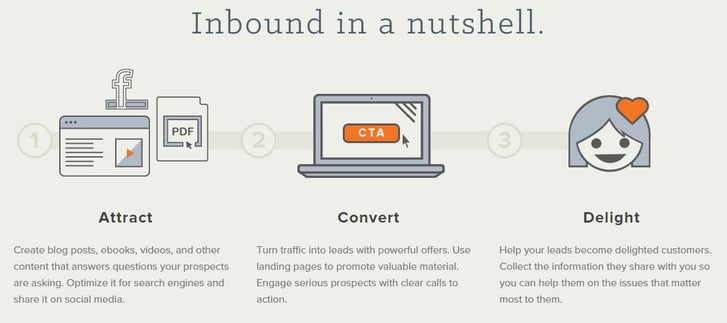 Click here to read how one of our clients at Half a Bubble Out increased business using inbound marketing.
5. People love it
You don't have to take our word for it. There's a reason HubSpot is ranked #1 by thousands of customers, and 15,000 companies in more than 90 countries use HubSpot. It works and it works well because you're marketing to human beings; you're learning about them, what they want and need, and how to engage with them.
We believe the HubSpot inbound marketing platform allows us to create a holistic online marketing strategy to help grow your business. Stay tuned as we reveal the latest releases offered by HubSpot and how they benefit your small business marketing strategy.
If you'd like to learn more about using inbound marketing services for your small business, contact us below. We're ready to help!
Since 2002, Half a Bubble Out has been dedicated to providing marketing, advertising and small business consulting that meet the needs of our clients. We specialize in powerfully telling stories through inbound marketing to grow your business filled with more passion and provision. Based in Chico California, we serve clients throughout Northern California and across the country to New York.