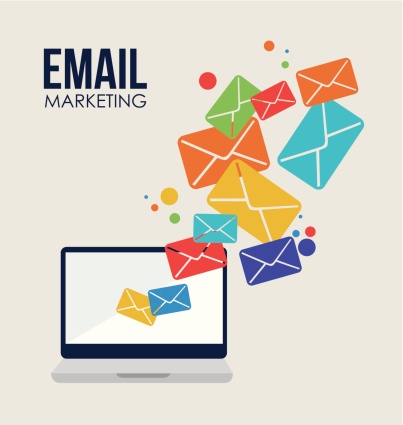 Contrary to popular belief, email marketing does still work. In fact, 74% of consumers say that they would prefer to receive commercial promotional offers through e-mail. Although it may seem old fashioned, there are a few things you can do to optimize, and in the long run, benefit from your emails.
Just how beneficial is an email marketing strategy? Is it worth the investment of time? Statistics provided by HubSpot show us that email is still a very effective tool when used correctly:
As of 2013, there are 3.6 billion email accounts
91% of consumers check their email daily
66% of consumers have made a purchase online as a result of an email marketing message
Email marketing has an ROI of 4,300%
So How Can You Optimize Your Emails?
With the help of some inbound marketing, email has all of the potential to be one of your strongest marketing tools!
1. Send Mobile Friendly E-Mails
More statistics gathered by HubSpot show that 48% of emails are opened on mobile devices, however only 11% of these emails are optimized for mobile devices. Making sure your emails are mobile friendly makes it easier (and more pleasurable) for those on the receiving end to read through the email, especially at a first glance.
2. Never Reveal the Full Value of an Email in the Subject Line
Revealing all of the "good stuff" in the header of an email is something equivalent to a person telling you what happens in the series finale of a great television show. Consumers will not be as enticed to read it and may miss out on important content.
In a sense, the heading of your email should act as a foreshadow to the content within the email.
3. Be Aware of Who You're Sending Emails To



Of course, the last thing you want to do is send potential customers spam mail. To avoid this, it's important to organize your contact list into buyer personas and keep track of where they are in the buyer's journey.

According to HubSpot, this form of targeted marketing has a 62% higher click rate versus not organizing your contacts into buyer personas.

Below is a brief explanation of how you can use buyer personas and the buyer's journey to optimize your e-mails:

Using Buyer Personas: Using buyer personas helps you identify your target audience


Ask yourself: is my buyer persona male or female?

How old are they?

Are they married or have children?

What job title do they hold?

What is their income?

Where do they live?

What are their hobbies or interests?

And where are they in the buyer's journey? (We'll come back to this.)

Now, your buyer persona isn't necessarily a real person. He or she is a fictional character representing what and who your target audience or prospect could be. Use multiple buyer personas to help you narrow down your contact list for different offers.

If you want more information on how to build an effective, yet basic buyer persona, click here!

The Buyer's Journey: Once you have figured out your buyer personas, it's important that you keep in mind where the potential customer is in their buyer's journey.

This is the right time we were talking about earlier. For example, you don't want to send out promotional offers if the person you're emailing hasn't even decided to buy yet.
4. Send Emails from REAL People
Sending emails from REAL people makes an email marketing strategy seem like it's not mass produced. It also makes emails much more personal and shows customers that you're not a marketing robot.
Guitar Center is a great example of this. Being a Guitar Center regular, they often times send me coupons and promotional offers. However, the emails are NEVER from just Guitar Center. Instead, they are emails from Matt Doane and William Seltzer, two **local Guitar Center managers.
This step creates a more personal relationship between the customer and the company.
*Guitar Center was able to make this personal because they had organized my contact information into a buyer persona through my ZIP code.
Now that you have a better foothold on how to optimize your emails, try it out for yourself! If you'd like help contact us at Half a Bubble Out.
Since 2002, Half a Bubble Out has been dedicated to providing marketing, advertising and small business consulting that meet the needs of our clients. We specialize in powerfully telling stories through Inbound Marketing to grow your business filled with more passion and provision. Based in Chico California, we serve clients throughout Northern California and across the country to New York.