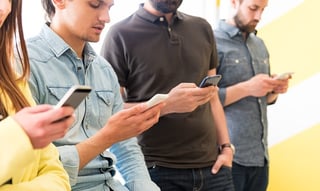 You've probably heard of Pokémon Go -- it would be hard to miss news of this popular new social app. In fact, you've probably noticed a strange trend recently of people walking with a sense of purpose all around you while glued to their smartphones. I have seen this in my own neighborhood, where suddenly neighbors I've never even seen before are out walking and staring at their phones, almost like they're in a trance.
If you're not familiar with Pokémon Go, it's basically an app for your smartphone that allows you to "see" Pokémon in the real world (your local streets based on your location), capture them, and train them to battle against other people's Pokémon.
Pokémon Go and Your Marketing
So how does this relate to small business marketing? Clearly this game is the craze of the moment, but in my opinion it is always good to watch trends and see what people are interested in, especially with the rapid speed of technological change.
In a recent Adweek article, Tod Loofbourrow and Eva Barbier give us 5 things to learn from the success of Pokémon go:
Build a genuine emotional connection with your target consumer. One player described Pokémon Go as "finally achieving my childhood dreams." Remind people of familiar and shared connections from their lives.
Pokémon Go demonstrates the importance of a large brand presence that engages people with sight, sound and motion. In the online world, this can be achieved with compelling video creative, strategic use of paid media to aid discovery, and strong social sharing. Combined, these elements create the online sense that "we're experiencing this together."
Relate to themes going on in the real world in a genuine way—from social issues that people care about (think of JetBlue's "Reach Across the Aisle" effort) to the feeling of connection and gratitude that people have during holidays (see American Greetings' "World's Toughest Job" campaign).
Build shareable content that creates social conversation, like Dove's "Beauty on Your Own Terms" video. Write the headline that you want your advertisement to evoke, and create content that drives the headline you want.
Put familiar content in a new context—evoke wonder, surprise and delight the way Pepsi Max did with its Uncle Drew character, who schools younguns in basketball. Pokémon Go demonstrates the power of inserting brands into our natural daily lives, but with a twist that creates emotional connection, wonder and engagement.
[Read the full article on Adweek]
There you have it, some great marketing strategies to learn from a massively popular trend going on right before our eyes. Maybe these common themes can apply to your next marketing campaign, or your business strategy overall. If you are looking for help with your small business marketing contact us today to see if we can help make you successful.
Since 2002, Half a Bubble Out has been dedicated to providing marketing, advertising and small business consulting that meet the needs of our clients. We specialize in powerfully telling stories through Inbound Marketing to grow your business filled with more passion and provision. Based in Chico California, we serve clients throughout Northern California and across the country to New York.