As a child, I (Michael) always knew I wanted to own a business one day. From standing in front of the local convenience store with my first shoe shining kit, to mowing neighbors' lawns, I was always trying to make a buck. I even told my Sunday School teacher I wanted to become a 'bachelor millionaire.'
But my AH-HA moment came in 2000, while earning my degree in Instructional Technology. I was at a stop light on 2nd Street, and had a moment of divine inspiration. Starting a marketing and consulting business was going to be my next move. That's when Kathryn and I took a leap of faith. (The 'leap' was much larger for Kathryn!)
He's not lying! I (Kathryn) worked boring corporate jobs where I had plenty of time to beat my Tetris high scores, and always came home irritated and unfulfilled.
I had a seminary degree and for a time worked as a pastor, thinking that was going to be my life-long vocation. I never would have guessed I'd become an entrepreneur!
How it Started

We launched Half a Bubble Out Marketing in the guest bedroom in 2002.
Our big break came when we produced a full-length documentary about Bidwell Park that aired on PBS and Fox. This helped boost name recognition, open many doors, and allowed us to take on larger clients. Although making documentaries was fun, lucrative, and used our skillset at the time, we knew we didn't want to be filmmakers for a living.
In January 2006, HaBO got its first real office space at 680 Rio Lindo Ave, in Chico, California and continued steadily growing. In 2008, thanks to a successful marketing campaign over a toenail fungus treatment, HaBO became the go-to agency across the country for podiatrists. The company grew 400% in a matter of months.
Then, during The Great Recession, the niche podiatry industry collapsed. HaBO lost 50% of its business and we were left wondering what to do next. The rapid growth had left the company and culture with some battle scars, and while the rapid loss of so much revenue was painful, it also proved to be a gift.
In the summer of 2012, we came across the book "The Coming Jobs War" by Jim Clifton, who was CEO of Gallup at the time. We were inspired by his description of a good job and horrified that 74% of Americans are disengaged at work!
We knew we had a decision to make; either walk away or change the way we did business. We doubled down and redesigned a company that allowed us to thrive both financially and personally; one that we actually enjoyed coming to each day and would also provide the same type of positive outcome for our employees.
How It's Going

Now, 20 years later, we've launched a podcast with over 160 episodes, written a bestselling business book, Fulfilled, built two 7-figure companies, and helped thousands of leaders world-wide!
Over the years we've realized you can't get to clarity alone - we certainly couldn't be where we are today without the help and honesty of mentors, friends, many business books, and learning from our mistakes – and that has led us to develop a holistic strategy we teach to our clients.
Where We're Headed
We kicked off our 2022 celebration with a new brand identity and new tagline: Half a Bubble Out, Leadership & Business Development.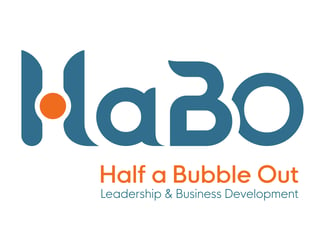 While HaBO continues to offer traditional and digital marketing services, this next year we'll be putting a greater emphasis on leadership training and business development programs, which consists of webinars, workshops, and coaching for small business leaders to help them grow and scale their businesses.
We're on a mission to help 10,000 business leaders build Passion & Provision companies full of Passion & Provision jobs to impact entrepreneurs, their employees, and the next generation. We believe your work is meant to lead to a calling, a greater contribution to the world, and leave a legacy. It's why we believe Passion & Provision is so incredibly important.
So...What's With Our Name?
We're Half a Bubble Out and our friends call us HaBO. We like to call our office and online community "HaBO Village" because "Village" comes from the idea of culture and community, two of our core values since starting our company 20 years ago.
The name Half a Bubble Out is a metaphor for the carpenter's level. When something is slightly out of level it becomes "half out." For the company, the part of the bubble that is half-out symbolizes thinking creatively, while the part of the bubble that is half-in represents the need to maintain a strong foundation in the quality and skills of their craft.
We plan to celebrate 20 years of being Half a Bubble Out all year long, with monthly giveaways, podcast episodes, relevant content for small business leaders, webinars and workshops...and you're invited!