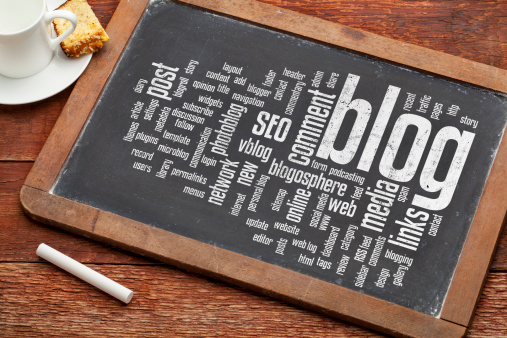 The never-ending question when it comes to blogging is, "do you shoot for quantity or quality?" Or, can you in fact have both? As marketers we ask ourselves this, as well as our clients [business owners] all the time.
The internet marketing world changes so fast and sometimes it's definitely hard to keep up. Just a few months ago the general consensus on blogging was that you should be doing it every single day or as much as possible to help with your SEO and to get you to the top of Google. Well, now, it's still important to blog frequently but the frequency amount is in constant debate.
With Google's algorithm constantly changing it's difficult to know what the sweet spot really is. However, recent changes have lessened the need to be cranking content out at warp speed as well as being super picky with your keywording. Google has come to realize that quality, natural content is best and they continue to move in the way of supporting such internet marketing tactics.
What we can say is that you do want some sort of frequency and you want to keep the quality in tact. So while blogging every single day may not being needed anymore, blogging consistently and frequently, while keeping the quality of your original content kickin' is a must.
Check out the opinions of Sonia Simone from Copyblogger when it comes to the debate of quality vs. quantity with blogging.
While reading this article I was surprised at how long the team at Copyblogger takes on their process of just getting one, single blog posted; 5-7 hours. Geez! While it may not be realistic for your business to spend that long on one blog post there is still some great advice to learn from in here.
How to Be in the Top 5% of Bloggers: New Research Results
Posted by Sonia Simone, Copyblogger
We've said it so often you're probably sick of it.
Content marketing doesn't work unless the content is genuinely worth reading.
Routine, phone-it-in content won't get you the audience, the leads, the prospects, or the conversions you need.
Andy Crestodina over at Orbit Media Studios is one of the content marketers who really gets it. When I found out that Andy had conducted a survey of more than 1,000 bloggers about the specifics of how they work, I knew that I wanted to get a post together to share our takeaways from the survey.
Good content takes time. It's a lot of work. And it can be hard to put the time in when we have deadlines and publishing calendars to meet.
This tension is built into the lives of all content marketers. Every blogger and every
content creator is looking for that balance between quality and quantity. All of us.
So how much time and how much work does it really take?
Let's dig into some specifics from the Orbit survey and see what we can glean.
The quality factor
The first thing the data shows is a huge difference in the amount of time spent per post among bloggers.
54 percent of bloggers spend fewer than 2 hours on a typical post
Just 5.5 percent of bloggers spend 6+ hours per post
The survey shows other big differences in what people put into their content.
Only 15 percent of bloggers have a formal editing process
4.9 percent of bloggers write 1500+ words in a typical post
Less than half of bloggers use multiple images
14.7 percent are adding video
Here at Half a Bubble Out, we personally blog every single day. We believe in having frequency and consistency, all while maintaining high quality content.
Related Posts:
Why Blogging is the Sexiest Thing For Your Internet Marketing Strategy