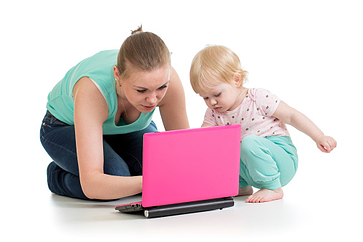 The other day my two-year-old daughter desperately wanted to play outside and I desperately needed to submit an online press release, so I told her "just a minute, mommy has to work and then we'll go outside." That bought me some time and got me thinking: even though she's not yet at the stage of asking questions, she clearly understands when I explain something to her in very simple terms. One day, she's going to ask me what I'm working on. How would I explain internet marketing to her?
"What do you do?"
This is a question everyone gets asked. It's easy to tell someone what your job is if you're a barista at Starbucks, a bank teller at Wells Fargo, a beautician, police officer, teacher, or waitress. But when you start to get into an industry like marketing and advertising it gets convoluted and you find yourself using jargon that is everyday lingo in your world, such as blogs, offers, or Search Engine Optimization.
This got me thinking about how I would explain my job to my toddler as a way to simply internet marketing tips so others outside my industry can understand how to get found online. This doesn't mean I consider YOU to have the understanding of a toddler, so no offense, but instead my goal is to just simplify.
So here's a hypothetical conversation with a toddler about how to get found online:
What is your job mommy?
I'm a content manager. This means I write stories for people. I make sure the stories have the right information, spelling, and look pretty.
Why?
Because the stories – also called blogs, offers, and web pages – help businesses get found on the computer. The stories answer questions and help people searching on the internet.
Are the businesses lost?
Not exactly, they just might be hiding.
Like Hide and Seek?
Kind of, but the business wants to be found.
How do you find them?
When someone types a word or question in the computer in the Google search bar, they get a list of things that make them happy. This is called Search Engine Optimization or SEO.
Like Elmo? – Elmo makes me happy.
Well, sure. If you typed in Elmo, then you would get a list of Elmo movies you could watch, Elmo toys you could buy, or Elmo books you could read. You wouldn't be very happy if you got a list of Oscar the Grouch instead of Elmo.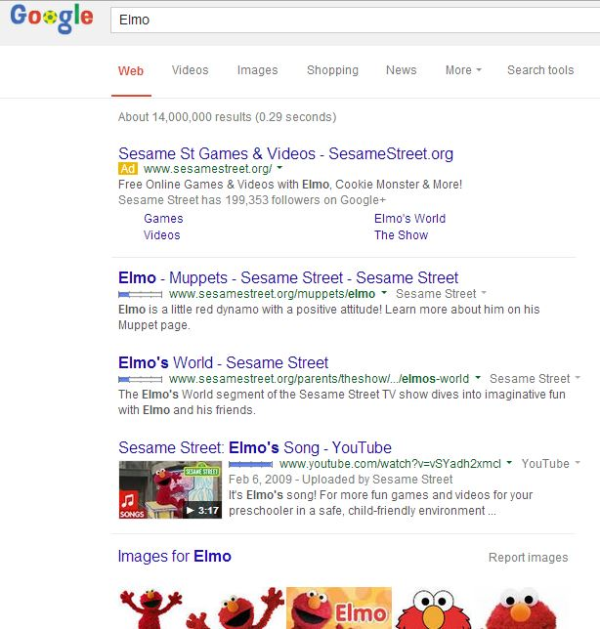 What if I got Oscar?
Well, that means that the business needs to write more stories about Elmo. If they write more about Elmo, then you won't see Oscar. They also have to use nice words that Elmo likes.
You mean please and thank you?
Those are very nice words, but words or phrases that people might ask about Elmo or that describe Elmo. Like, "Does Elmo live on Sesame Street?" "Where can I buy tickle me Elmo?" "Elmo and the muppets" or "Elmo's world."
I have Tickle Me Elmo! I'm going to play with him.
Just like the attention span of a toddler, that is about as much time as you sometimes have with the people searching online. They type in a word or phrase that relates to your business. If you don't show up in the search results, then they will quickly find something else that interests them. That's why it's important to start building your content by writing "stories" in the form of blogs, offers, and web pages.
If you'd like more internet marketing tips about how you can get found online and start getting more customers, download our free offer below or contact us to chat.