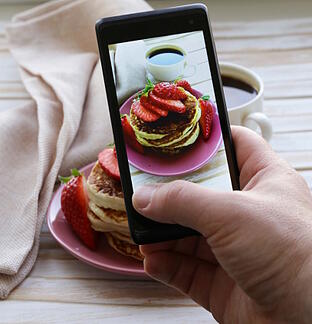 Should I be using Instagram for my business?
I can't tell you how many times I've been asked that question—and I know my colleagues have been asked that question multiple times as well.
By the way—in case you are wondering what the heck Instagram is, here you go: A popular photo and video sharing (15 seconds) application that allows users to take a picture, apply a filter and write a caption. (Keystone)
The problem is that it is not as black and white as one may think. It's hard to know if Instagram would be beneficial for a business without knowing anything about the business—and of course in every situation there are the exceptions. There are those businesses who break through the mold of their business. For example, an accounting firm killing it on Pinterest? Who would have thought! The same goes for other social media platforms, including Instagram.
What kind of Businesses Use Instagram?
Typically the businesses that utilize Instagram best are those that are product based. Industries like fashion, home décor, food and fitness do the best on Instagram because they have an endless amount of visual content to provide [which is what matters since Instagram is entirely image based].
However, just like I said earlier there are always the exceptions to the rule. Some companies that don't sell product based materials and are service providers instead, have found that sweet spot of the type of visual content to share instead—employee photos, company culture, cool places they visit, things that go on in the office, etc.
This article is a good read to see what I mean: The 5 Biggest Misconceptions About Using Instagram for Business
Instagram may also have other features that you did not realize could benefit your business' social media efforts—expanding outside of just the Instagram platform itself. Take a look at this article below to see some of those extra features that go along with creating an Instagram account for your business.
How to Use Instagram to Improve Your Marketing
Posted by Jenn Herman, Maximize Social Business
Many people think of Instagram as a silo – its own platform, unrelated to everything else you do. But there are many Instagram features and tools that you can take advantage of to improve your whole marketing strategy. If you're only using Instagram to share photos on Instagram, you're missing out on many more opportunities to market your brand.
Instagram Photos
Sure, it's easy to post a new photo to Instagram. It takes mere seconds. But have you ever taken those photos and used them anywhere else?
You spend hours on Photoshop or make big payments to graphic designers to create images for your brand when you have Instagram right at your fingertips. Now, I understand the real value of a great designer and Instagram won't replace them. However, you can save money and time by occasionally creating your own branded content.
Instagram has a variety of filters and photo edit tools which can help you produce high quality images quickly and easily. You can add text overlays or create image collages with ease. And once these images are created, you can repurpose them to other locations.
Share your Instagram images to Facebook, Twitter, Google+ or Pinterest. Use your Instagram images on your website or blog to enhance the visual component of your content. Use your Instagram images in place of stock images on marketing content to really give customers a true perspective of your company.
We all love photos and Instagram allows you to easily incorporate amazing images into all of your marketing needs.
Instagram Videos
Instagram videos aren't as common or as popular as photos but they offer so many great benefits, it's hard to avoid capitalizing on them. Videos also offer filters and editability tools to really enhance the quality of the videos. And, much like Instagram photos, the videos can easily be repurposed to other social media sites and your website.
Some of the best ways to utilize Instagram videos include:
How-to videos

Greetings or personal messages

Behind-the-scenes

Product information

New product announcements
[Contine to original article How to Use Instagram to Improve Your Marketing]
To learn more about social media platforms and how to use them for your business, contact us today!