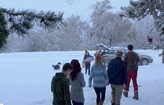 As tears welled up in my eyes after watching Apple's latest television commercial, I realized just how powerful advertising can be. Not only was its spot well filmed and paired with heart-warming music, it touched on a very current topic in society: Does cell phone use cause teens to become introverted and unattached from reality? Apple shows with this tear jerker that its products actually bring families closer together.
Haven't seen the television spot yet? Watch it here!
Did it bring a tear to your eye?
Let's ask the bigger question: Does it make you want to buy something from Apple? Leave your comments and answers below.