Batkid is dominating feeds, blogs, and the news! How far has his hashtag gone, and where will it be at the end of the day? No one knows, but what we do know is we had to blog about this amazing heartwarming story, about a little boy who got his wish.
Who Is Batkid?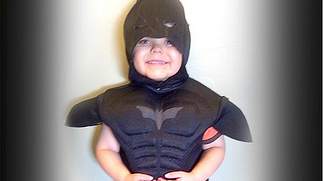 We have inside information from a Gotham City informant that Batkid's real identity is Miles – a shy kindergartner. Miles is a hero in his own right, battling Leukemia and beating an awful disease.
This superhero's mom reveals "He likes to be a superhero...He is one."
As part of the National Make-a-Wish Foundation, Miles was transformed at 10 a.m. this morning into "Batkid." Adorning a mask, cape, and puffy fake muscles he exited the batmobile, from the front of a two-person sportscar.
SF Loves BatKid #SFBatkid pic.twitter.com/hzI7341Sgs

— Dennis Goedegebuure (@TheNextCorner) November 15, 2013
Batkid's First Mission – Rescue a Damsel in Distress
After jumping off a trampoline, "Batkid" found a damsel in distress sitting on the cable car tracks on Hyde Street. Explosives strapped to her back and a bandana around her mouth. Batkid saved the day, and the damsel. Crowds went wild and a Batkid star was born.
KRON4 team is having a great time covering this story @KRON4MPelton took this awesome photo #batkid #kron4news pic.twitter.com/Cbl9sVuGkx

— Aaron Pero (@KRON4APero) November 15, 2013
7th floor view of Union Square. #batkid BatKid pic.twitter.com/xMbqVqWyIH

— Kyle Bonagura (@KyleBonagura) November 15, 2013
The World's Response to Batkid, or Should We Say Social World?
Our office is literally drooling over the Hashtag action #Batkid is getting on Twitter. Not to mention the live news feeds and Facebook posts pouring out over the internet and news. Obviously people love superheros and absolutely love little kids who overcome big obstacles, so it's no shock that America has found a special place in their hearts for Batkid. After all who wouldn't want to be a superhero for a day?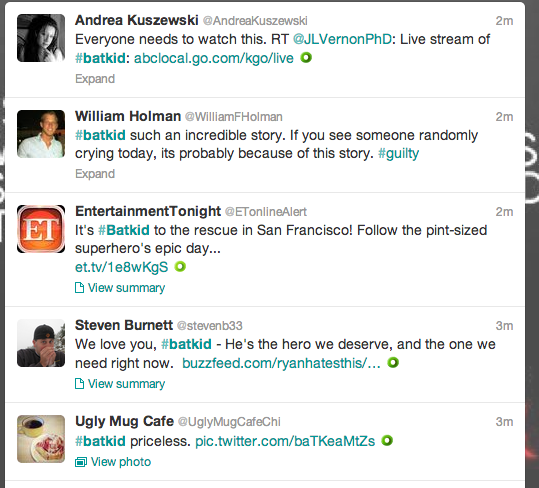 How Did All of This Attention Start?
Make-A-Wish Greater Bay Area Foundation sent out in October asking for volunteers to help give little Miles his wish.
The Timeline: Email went out asking for volunteers. Email went viral, and now there are 11,000 to 12,000 volunteers helping with Miles' wish. WOW!
BREAKING: @PenguinSF has kidnapped @SFGiants mascot Lou Seal! Save him, #SFBatkid!!!! They're headed to AT&T Park! pic.twitter.com/s7UOYMYucC

— Make-A-Wish Bay Area (@SFWish) November 15, 2013

The Marketing Aftermath of Social Media:
#Batkid About 9,380 results in Google Search
"Batkid" About 126,000 results in Google Search
Batkid story ranks #1 for Gotham City in Google Search
Stories: A number of supporters from around the U.S. have told Make-a-Wish they'll be flying to San Francisco just to participate.
"As soon as my husband and I heard about this on our radio, we got online and ordered our airline tickets," wrote a retired teacher from Akron, Ohio. "This is the first time we've ever heard of anything like this."
Social Media Involvement:
Foursquare will be letting participants check in to "Gotham City" on the day. Several Facebook users set up a Batkid page. The Penguin is taunting Batkid on his new account, run by award-winning social media agency Clever Girls Collective.
Follow the Live Stream!
If you're interested in following this fun, inspiring story click here! for a live feed of Batkid's day. Or follow the hashtag #batkid on Twitter.