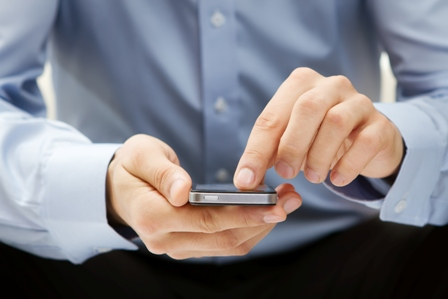 Effective Wednesday, October 15, 2013, the Telephone Consumer Protection Act passed a new rule that states any company that sends SMS marketing messages (texts to your cell phone) without prior written consent from recipients could potentially face fines of up to $1,500 per text.
OK, so maybe illegal is a little harsh, which is why we are choosing to feature the word in quotations due to the new rule having many exemptions. This is however a very important change to highlight, for there are some hefty fines attached or the chance of a class action lawsuit if SMS is done wrong. Can you imagine sending out a promotion or advertisement through text to 500 people, and then being fined $1,500 per text? No way!
This also applies to any "robocall" which is a phone call that uses an autodialer system to deliver a pre-recorded advertising message to someone's personal cell phone.
Follow these guidelines to stay in the clear:
If you are using SMS Marketing consumers must give consent
Consumer consent must be unambiguous, which means the consumer must receive a "clear and conspicuous disclosure" that he/she will receive future calls or text messages that are for advertisement purposes, according to internet law firm Klein Moynihan Turco LLP.
Just because you have an established business relationship with someone does not mean you have consent to send this person advertisements/promotions through text messages.
Digital Marketer summarized some of the new rules you need to follow:
Receive written and signed consent from all opt-ins in order to receive texts from your business (can be digital)
Provide an opt-out option and help instructions
Indicate frequency of texts
Warning of possible carrier costs and fees
Text must state the person is not required to give consent
Content must be relevant to that which they consented to receiving
If directing to a landing page, all boxes must be left unchecked
Let receivers know the messages may be coming from autodialers
For all members of your current contacts you will need to:
Get new consent from those customers who have not given it in the past
Share disclosure of possible carrier fees and costs
Send a compliant text to reestablish opt-ins
Here's an example from 7-Eleven Convenience Store's of what an SMS marketing message should look like only after the user first texted them to receive certain promotions, hence the "deals" text.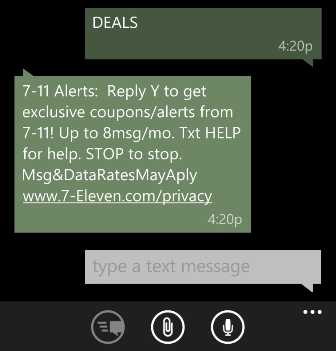 [Image provided by Brad Bortone at Digital Marketer]
7-Eleven is following all the rules because:
They indicated what the text messages would be about
They gave an option to opt-in and out of texts
They gave an option to seek additional help
They warned the user certain message rates may apply
They indicated how many messages would be sent a month
They provided a website to read about additional privacy policy information
It is a good idea for advertisers to keep each consumer's written consent for at least four years, which is the federal statute of limitations to bring an action under the TCPA.
Why do companies use SMS marketing?
It might seem like SMS marketing is more trouble than it's worth, and yes that could be the case – it really just depends on your business and your industry. But here are a few common reasons why SMS marketing can be effective:
Keeps you top of mind among consumers
Efficient way to send out promotions
High open rate
Short messages force you to send only the most relevant content
Instant deliverability
You just want to be sure you are following the rules and staying compliant with the FCC.
So, what do you think about this? Will it have much affect on anything? Share your thoughts with us below!
Related Articles:
Internet Marketing Tips: Why Mobile Marketing Matters
Why is the "RIGHT" Internet Marketin Strategy Important for Your Success?