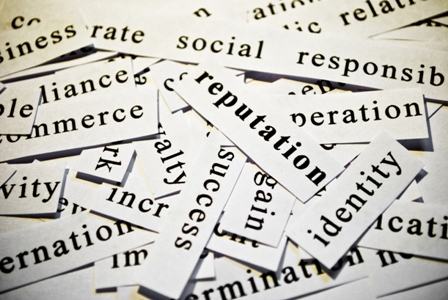 Like it or not, we each have a reputation. We are given a reputation by the people who know us best, those we have just met and even the strangers we pass by on the street. It is the way that others view us as individuals and despite the amount of truth it does or doesn't contain, it matters. Perhaps your reputation may just be a person's opinion of you, but you can bet that good, bad or ugly, it's going to spread. It can make or break you. There is no denying that when it comes to small businesses, reputation is one of most important factors in its success, both on and offline. Internet marketing can help influence this reputation.
The Tools to Build Your Company's Online Reputation
Unlike what was formed about us in our adolescence, when it comes to the reputation of our companies, we luckily have some say in it. There are many ways to build a company's reputation, but perhaps the most effective way would be with the use of the World Wide Web. Internet marketing is a broad term which encompasses smaller parts. It uses different strategies to market a product or service online such as:
Search Engine Optimization (SEO) to help get your company found on the Web
Content Development that provides people with helpful information they are searching for
Calls-to-Action that encourage website visitors to do something on your site, like download a free offer
Website design strategies
Social Media using sites like Facebook, Twitter, LinkedIn and Google+
Link Building
Email Marketing
A small business may use some or all of these internet marketing tools in order to form, understand, even change its own reputation and will do so if it's smart. These tools do more than just sell; they are places to collect the data and ideas which contribute to the overall understanding of what a company is.
Know What Your Small Business Represents
Small businesses are always looking to be known and to be on top of their competition. One important way to do this is to truly know your company and to understand it from every angle. In order to do this it is necessary to take a step back and look at it from none other than the customer's perspective. You can use internet marketing to help do this by:
Asking social media followers to answer questions about their experience with your company
Researching the questions customers are asking in your industry
Using the above information to create helpful content for potential customers searching online
If we are brave enough to ask what people think of us perhaps we are on our way to discovering the answers to what we should be. What does the average Joe think of us and is that what we want? Finding out what the rumors are in order to change or maintain things is part of growing stronger as a company.
We have matured into adulthood and now have the ability to create our own reputations. It is time to take our businesses into our own hands to take advantage of the tools we have at our fingertips and on our screens. It is time to not only accept our reputations, but to go a step further by taking them into account and doing something about them. Internet marketing really shouldn't simply be selling a service or product but truly experiencing a business in the process.
This is a guest blog post by: Our very own HaBO Intern, Katie Jewett, who has a degree in Communication Design with an emphasis in Graphic Design from California State University, Chico. In her free time she enjoys spending time outdoors and painting. This summer she traveled to Japan and climbed to the top of Mount Fuji! It is her dream to ride in a hot air balloon or to see the Northern Lights but she would preferably like to do both at the same time!
Related Articles:
Are You Feeling Social Yet? Any Good Internet Marketing Strategy Has a Social Piece