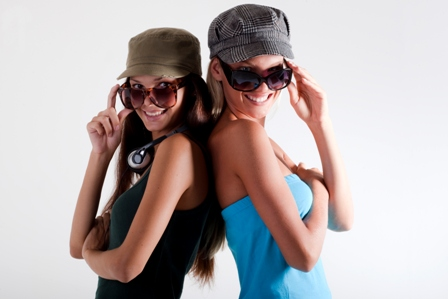 When I was a Droid user (gasp!) I still got excited about Apple's newest iPhone reveal. Why? Because Apple is cool and I wanted to be informed of the latest coolness. I've since crossed over and become an iPhone user, which doesn't really matter except that now I'm even more aware of Apple iPhone announcements and pay closer attention. But Apple and iPhones are constantly in my world, and might not be in yours. So in case you've been living under a rock and haven't heard about Apple's big, shiny, new announcement – times two – keep reading today's internet marketing tips to get brought up to speed.
Double the Fun
On Tuesday, September 10 Apple unveiled its long anticipated next generation iPhone – make that two! The iPhone 5S, and a second low-cost iPhone 5C which rumors had been circulating about since January. Some said the "C" in 5C stood for "China," where the phone is manufactured or "color." Even our own Half a Bubble Out employee Natasha Hawkins had her theory, thinking the "C" stood for "child" and was a more kid-friendly iPhone. Apple itself joked the C stands for "cheapass" (pronounced sha-paz) in this parody:
The announcement was the first time an iPhone reveal had to share the spotlight with another iPhone. Since the original iPhone made its debut in 2007 Apple's standard formula has been to introduce a new updated model each year, offer the previous model at a discounted price, and get rid of models that are more than two years old. But this time, Apple introduced two models at once, discontinued the iPhone 5, and kept the iPhone 4S as free with a contract. Why does this matter? Well, some think that a lower cost iPhone could help Apple get more global customers. While Apple consistently performs well in the U.S. market, the iPhone's share of the global smartphone market declines year over year, according to IDC. While all this might be only mildly interesting to you, let's cut to the chase about what each new iPhone offers.
Features of the New iPhones
The iPhone 5C and iPhone 5S will go on sale September 20 in the United States, China, Australia, Canada, France, Germany, Japan, Singapore and the United Kingdom. Pre-orders started on Sept. 13.

iPhone 5C
Same dimensions as iPhone 5S
Made of soft silicon rubber instead of anodized aluminum
Comes in color! Blue, green, yellow, pink and white
4-inch retina display
Larger battery
iSight camera has a 3x video zoom and Facetime HD camera
Sells in the U.S. for $99 for 16GB model and $199 for 32GB model

iPhone 5S
Called the most "forward-looking" iPhone to date
Fingerprint sensor called Touch ID that eliminates the need for a lock code
Equipped with the new Apple A7 processor
Runs 64-bit apps, all have been re-engineered
5 times faster than the iPhone 5 (and 56 times faster than the original iPhone!)
Major camera improvements, such as new image sensor, dual-LED flash, panorama photos up to 28 megapixels, HD video capture at 120 frames per second
Available in silver, space gray and champagne gold
Sells for $199 16GB, $299, 32GB, $399 64GB – with two-year contract at AT&T, Verizon or Sprint.
How do you choose?
If you're an indecisive person and you're in the market for a new iPhone, Apple coming out with two new iPhones instead of just one new model didn't help your decision making process at all. Maybe you're hoping these internet marketing tips will help you decide which to get. You really can't go wrong with either. If cost is an issue, go with the iPhone 5C. It's basically the 5, with a few upgrades and some cool packaging. If you're an iPhone addict, then get the iPhone 5S. The fingerprint security is pretty neat and heck, you'll feel like a rock star because it comes in gold. Or if you're like me, perfectly content with your iPhone 4S, just sit tight and wait for your upgrade.
Whatever you decide (and even if you are a devoted Droid user) and you've made it to the end of this internet marketing tips post, consider yourself informed about Apple's latest coolness.
What do you think of the new iPhone 5C and iPhone 5S?
Related Articles:
Internet Marketing Tips: Why Mobile Marketing Matters
Internet Marketing Tips: Learn How to Newsjack in 5 Minutes or Less