Google has chosen the digital capitals of each state. Why? Just for fun, and probably to create some digital business competition.
"Given the importance of the web in growing our local businesses and our local economies, we worked with independent research firm IPSOS to analyze the online strength of local businesses in cities and towns across America. Businesses in these communities are embracing the power of the web to find new customers, connect with existing ones and fuel their local economies." - Google
What does this mean? Google has chosen the cities based on business's embracing digital and online business tactics. The towns who adapt to change the quickest and adopt new online techniques win the title for 2013 eCities! Kind of fun right?
Did Your City Make the 2013 List?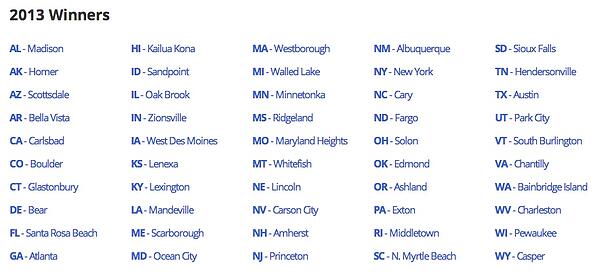 For those of you living in California, you might have been shocked that San Francisco did not take the lead over Carlsbad, so we did a little research.
First a little background on the city of Carlsbad
Carlsbad is an affluent seaside resort city occupying a 7-mile (11 km) stretch of Pacific coastline in North San Diego County, California. The city is located 87 miles (140 km) south of Los Angeles and 35 miles (56 km) north of downtown San Diego. Referred to as "The Village by the Sea" by locals, Carlsbad's Mediterranean climate attracts visitors year-round to its quaint hotels and five-star luxury resorts. According to the U.S. Census Bureau, the city had a population of 106,888 as of July 2011. http://en.wikipedia.org/wiki/Carlsbad,_California
According to the 2011 numbers these are the top employers for Carlsbad: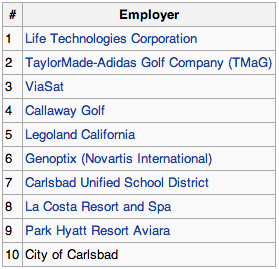 Carlsbad is also home to: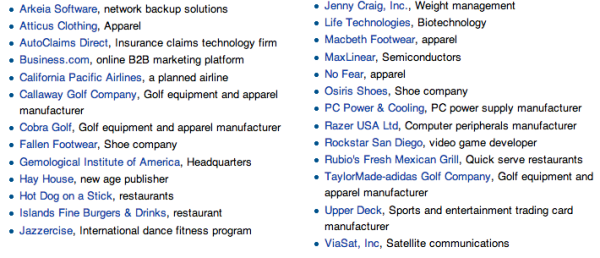 Recognize a few names? So did we!
One that really stood out to us was Taylor Made. This is a huge business, not so local or small at all. But we decided to take a look at their online Marketing anyways, and we found exactly what we expected to see. Huge social media numbers, and a website that rocks!
What you can learn from Taylor Made:
Clean simple layout
Ease of Use
Clear Navigation
Eye Catching Crisp Images
Calls to Action: Shop, learn more, shop drivers
Newsletter sign up
Social Media Links to Facebook, Twitter, Youtube
Video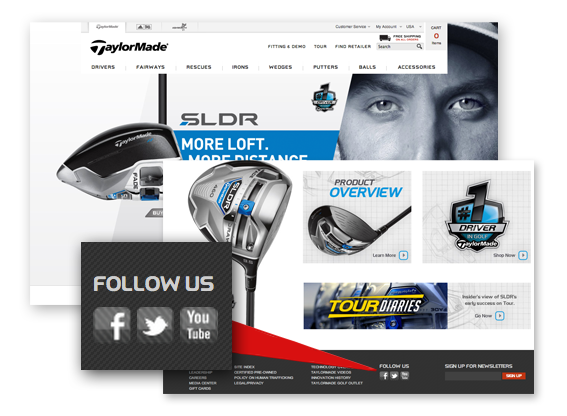 Social Examples: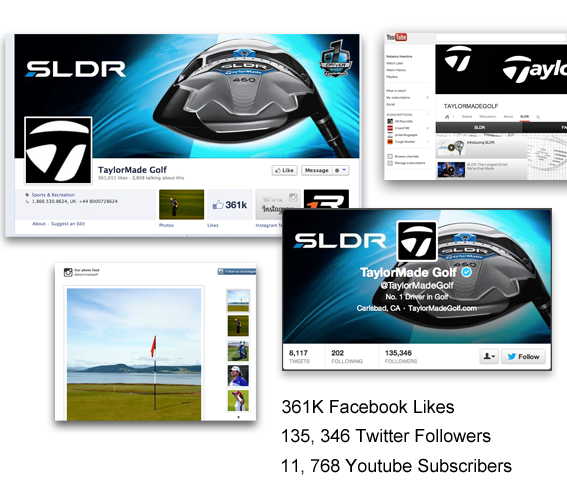 Small Shop Talk vs. Taylor Made
While your business might not be as large as Taylor Made you can still use some of its online marketing techniques to boost sales, and get more customers for your own business. Creating social media accounts like Facebook, Twitter, Google+, and Instagram are a cheap and easy step for any business to make. Accounts are free, however there is some setup time, and possible design costs if you want to look professional online.
A few suggestions for starting social media accounts:
Choose the Right Fit
You don't have to be on every social site imaginable, pick one or two that you can commit to, and that make sense for your business.
Quick Tips: B2B companies should definately consider LinkedIn and Google+. B2C companies should look into Facebook, Twitter, Instagram, and Google+. For companies with a lot of updates and news, Twitter is the place to be!
Look Professional
Something that really stood out to us with Taylor Made, is that all of its website and social sites match in design. There is a common color scheme, look, and feel to every piece of Internet Marketing. This may look overwhelming if you're not a designer, but for an Internet Marketing agency or designer this is a walk in the park. Consider a budget you are willing to spend on social media designing. Contact a local agency in your town, or a designer, and ask for a design that compliments your website design and clearly shows what your business offers.
Quick Tip:

Designers sometimes get overly creative and forget to show what your business sells clearly. Make this a point and it will pay off!
Make a Plan
It is no secret that social media takes time, but how much? It honestly depends on how much time your business chooses for your Internet Marketing plan. Social Media should be a supportive medium to your website and blog content. We do not recommend neglecting your blog strategy in hopes for more "Likes" on Facebook. Set time aside daily to update your social accounts and stick to your plan.
Quick Tip: Assign one person in your business to monitor and post for your business. How do you pick someone who will be good at it? Choose an employee that is already familiar with Social Media. They should have a Facebook account and be an avid user. Maybe they have dabbled in Twitter but are Pinterest fanatics, these people work extremely well in the social arena and will help your business catch up in online marketing.
If Your Serious About Getting More Customers...
All of these are great tips to get your business started online, but if you really want to stand out from competition and roll in new customers we highly recommend hiring an Inbound Agency that is able to create a customized plan that uses all of the Internet Marketing options available to your company. This doesn't just mean social media, but a melting pot of tactics and strategies that are proven to bring companies traffic, leads, and customers.
Warning! This is where we give you our pitch. We are really, really good at this stuff. We have experience in working with small local businesses and even larger corporations. We can help your business set-up social media accounts, blogs, websites, and more. Plus we don't just create the accounts and leave you high and dry. We teach our customers and help them adapt their business to the Inbound Marketing process, and that is what makes us different than our competition.
So if you read our pitch, liked it, and want to hear more contact us today!
References: