Online Public Relations (Online PR) is faster, more effective, and drives online visibility for your press release to a stream of media websites and blogs. This new way of distributing leads to powerful links and SEO (Search Engine Optimization) for your business. But before we talk about the true awesomeness of Online PR lets talk about what most people think about Public Relations.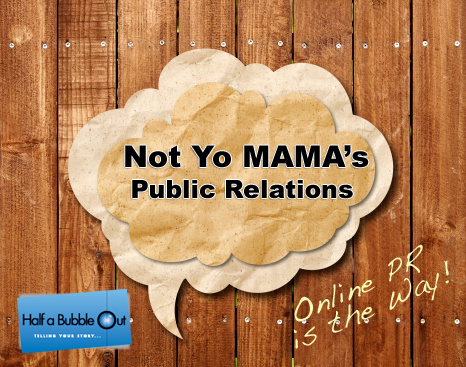 Stuck in the Stone Age of Public Relations
Although "public relations" was not yet developed, the history of public influence and communications management dates back to ancient civilizations. The earliest evidence dates back to the Babylonians of 1800 B.C. Public relations has been around for awhile in some form, it has just evolved over the years.
Wikipedia defines Public Relations as: "The practice of managing the spread of information between an individual or an organization and the public. Public relations may include an organization or individual gaining exposure to their audiences using topics of interest and news items that do not require direct payment."
Common traditional PR activities include speaking at conferences, winning industry awards, working with the press, employee communication, and writing press releases.
Most business owners think of Public Relations from this old perspective. They don't realize Public Relations has grown into a new age and has new benefits!
What the Heck is Online Public Relations?
Think of Online Public Relations as traditional public relations on steroids. If you want more bang for your buck then adding online public relations to your internet marketing plan is a wise choice.
Will The "Real" Online PR Company Please Stand Up!
It is important to note that not all Online Public Relations plans are the same. There is no one size fits all! Good online public relations companies don't just distribute press releases and wait for the phone to ring. They incorporate the use of SEO tactics, quality writing, and online public relations best practices to produce press releases that get:
Quality SEO Links
Quality Traffic to Your Website
Leads
And New Customers
A good online public relations strategy incorporates:
Press release writing — Writing online press releases and writing to people first, and the search engines second. Our writers are constantly trying to write in ways that your customers will relate to.
Keyword research — Our Online PR team knows the importance of good keyword research to get your press releases picked up by bloggers, newspapers, and more. Without a solid keyword plan your onine press releases will just get you to the wrong place quicker.
Press release SEO — Including relevant keywords in the headline, subhead and lead paragraph of optimized press releases. In the past anyone could write a press release and make it work, but now search engines are ranking your press releases based on a number of SEO factors. It does no good to pay for online public relations if your press releases and articles are not keyworded correctly.
Press release links — Adding links in an optimized press release to help people find interesting, related content on a website. Search engines and people value links in your articles. Links are how your customers will find your website from your press release. Including links to other quality websites is a good practice too. Think of it as acknowledging others and sharing the wealth. Without a link you get nothing.
Online press release distribution — Using a press release distribution service that takes full advantage of press release optimization and allows your press release to be distributed to hundreds of media outlets and viewed by journalists and bloggers.
PR measurement — STOP! If you are paying for online public relations services and seeing no report on your efforts then there is a problem. You should have a general idea of how many links, views, reads, impressions, and even leads that a press release is achieving for your business. Without measuring your efforts you won't be able to measure your success.
Quit the Theatrics of Old School Public Relations, Contact Us Today!
If you are looking to incorporate online public relations into your internet marketing strategy, please contact us so we can devise an amazing and brilliant plan to get your business more customers using online public relations.