If you are a business who serves a local area then you need Google reviews! Google reviews are heavily weighted and are a large contributing factor to your businesses' ranking in search results. Put plainly, if you don't have reviews and a competitor does, they will likely rank higher than you when customers search for your services.
"43% of Google Search queries are local. 74% of these local searches are conducted on mobile devices." Source: Reviewtrackers.com
Get the Edge on Your Competition with Internet Marketing
While we recommend a holistic approach to internet marketing, and a strategy that includes Social Media, Online PR, Online Ads, Landing Pages, Email Marketing, and more, we also recognize that you want to rank fast and see progress. A quick solution that you can do yourself without a lot of cost is getting reviews on Google for your business. We have seen businesses rank higher for local search terms simply because they have a large amount of positive reviews on Google+. If you want to out–rank your competitors on search results and get found by customers then you need reviews.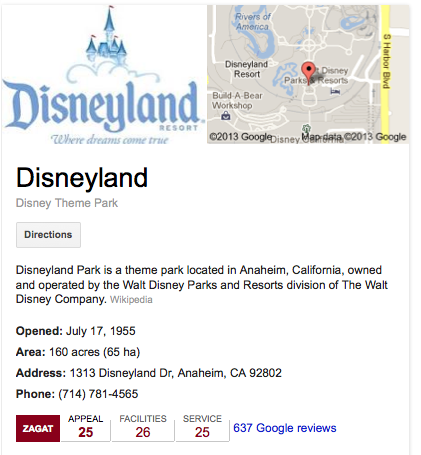 How are Google+ Business Reviews Measured?
Reviews from real people like you are tallied to create scores on a 30-point scale for different aspects of a business, like Food, Service and Decor. People's reviews also factor into concise summary reviews that help searchers get an overall sense of a place. Your overall score is the average of all your reviews.
Customers can write a review from any Google+ Local page, by simply clicking "Write a review" to share thoughts about a business. Your customers can submit scores for different aspects of your business, write a detailed review, and even add photos of the business.
First Things First, Do You Have a Google+ Page?
Before you start getting reviews it is important to make sure you have created and completed your Google+ and Google+ Local pages. Once these are created you must merge your Google+ accounts so that your local listing is optimized when your business is searched for.
Set-up your Google+ Page with this video!
Then Create your Google+ Local Page!
Don't forget to Claim your Google+ Local listing!
Already Have a Google+ and Google Local Page?
If you have already created and merged your Google+ pages, and completed the listing information, it is time to get your business reviews.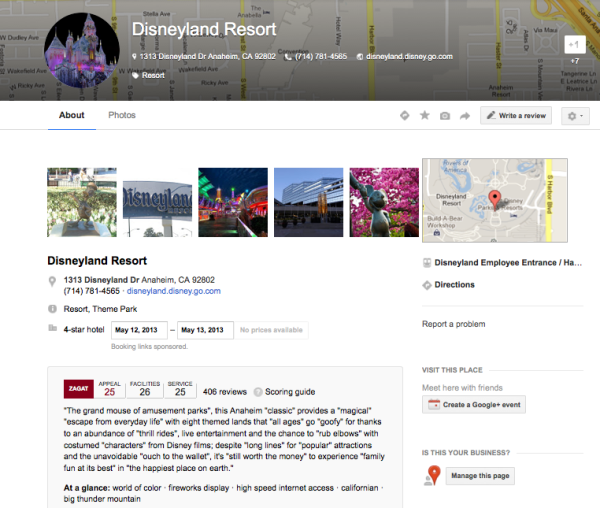 Disneyland is a great example. It has a total of 406 reviews and its profile is completely filled out for optimal search results and customer engagement. We know it's Disneyland, but your business can do the same, it just might take you longer to get to 400 reviews depending on your industry.
Disneyland Google+ Reviews: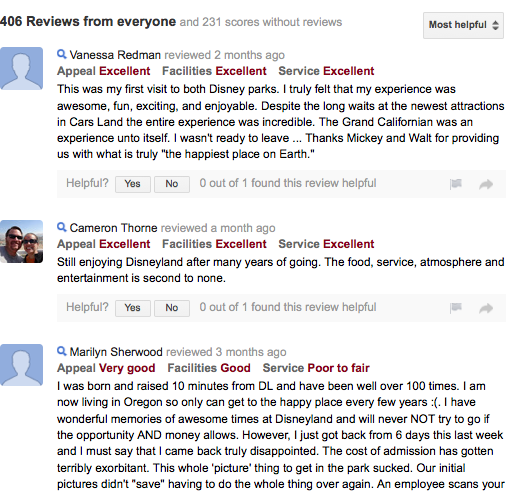 4 Simple Steps to Get Google+ Reviews like Disneyland:
1. If you already have testimonials from current or past clients, utilize them. Send them a quick email with instructions on how to review your business (Download an email template here).
2. If you are a trade based service like a plumber or painter, you have direct access to the end customer. Once you have finished your project and the customer is happy, bring an iPad or tablet that already has internet access. Kindly ask the customer if they would be willing to give your business a testimonial online. All they have to do is search for your business, click review, and submit. If you do choose to use this strategy it is important to teach your service technicians how to operate the device you will be using, and how to correctly submit a review.
3. Utilize your venders. If your company uses local printing companies, mail houses, or other venders you already have a pool of people to review your company. While you haven't performed a specific service for them, they still communicate and interact with your employees and your company. Ask them to review your business on Google with that perspective. They will likely say you are a wonderful and knowledgeable company that is easy to communicate with.
4. Get Employees Involved! If your business has multiple employees who manage clients directly then it will be important to get them involved. Ask them to reach out to their contacts and request reviews. Provide them with this email template, but ask them to add in their own personal touches for their client.
Thank you for reading our blog, hopefully you learned a few tips to improve your internet marketing strategy with Google+.